Tuesday, September 10, 2002
Just Say NO
This past weekend, we visited a long-lost cousin of mine, and she was saying that she was planning on spending Wednesday at their beach house, far away from the television and radio and newspapers. That sounds like an excellent idea to me. Looks like it sounds like an excellent idea to a lot of people.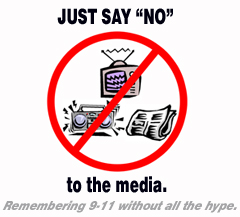 (Found via David Weinberger's JOHO The Blog.)
Posted at 9:14 PM
Note: I'm tired of clearing the spam from my comments, so comments are no longer accepted.
This site is copyright © 2002-2022, Ralph Brandi.