Sunday, March 18, 2007
SXSW Interactive 2007 roundup
Wow.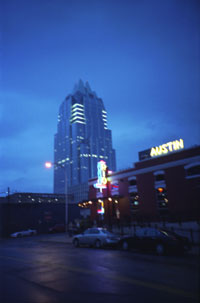 That was intense.
I got back from Austin Wednesday evening, but it's taken me a few days to process everything that happened there. My head is still spinning in the best of ways. As I told one friend in a post-conference IM session, it was the most fun I've had with clothes on in years.
I went to lots of sessions, but to be honest, I can't think of any that really wowed me. The power session on search engine optimization was probably the best of the bunch, but should have been a full hour. Same for Peter Merholz's Stop Designing Products. But honestly, the "session" I enjoyed the most was the world premiere of the film Helvetica. As a former book production editor/typographer and a documentary geek, this crossover from the film portion of SXSW was to me the best part of the official program.
But to be honest, I didn't go to SXSWi this year for the program. I went for the people. And to say that I wasn't disappointed would be the understatement of the year.
Thursday night's dinner with the other members of the WaSP International Liaison Group who were attending SXSWi was my first opportunity to spend time with Steph Troeth, the co-lead of the ILG, and Kimberly Blessing, the co-lead of WaSP. (I had met up with Jan Brašna, one of the other members and my roommate for the week, and Glenda Sims, the other co-lead and my host in Austin, earlier in the afternoon when I first arrived in town.) That the dinner was at Paradise was fitting; it was just the kind of small, quiet gathering I appreciate most, and was a great way to start the week. Unfortunately, Kazuhito Kidachi didn't make it into town in time for the dinner. I met up with him briefly a few days later getting out of the elevator.
I met so many people over the course of the week. I had interesting conversations with Richard Rutter and Paul Annett of Clearleft over wine and cheese and talked to Jeremy Keith about his band Salter Cane and how they're on the verge of self releasing their first album. I didn't get to talk to Andy Budd this year, thereby missing out on the Clearleft quadfecta. Jeremy Gillick, who works for Kimberly at PayPal, was a real treat to talk to. (Boy, I wish PayPal had a New York office; the web standards evangelist job that Kimberly is trying to fill looks like a dream job except for the fact that it's in California....) Running in to Kevin Cornell, Heather Shaw, and Michael McAghon on 5th street at the imploded ruins of the Intel building and joining them in the trek to Whole Foods for lunch was a real joy. Kevin took his lunch and headed back immediately, but Heather, Michael and I skipped the two o'clock panels and had a leisurely conversation-filled lunch. Heather and I compared music geek stories. :-) The effervescent Cindy Li and I talked about swing dancing; she does Lindy Hop, which is a close cousin of the West Coast Swing that Laura enjoys so much. I honestly don't remember what I talked about with Veerle Pieters and her partner Geert Leyseele (okay, I do remember talking with Geert about the flash deflector on his camera, but there was more than that); what I do remember is the warm feelings and wonderful smiles. Oh yeah, and when Veerle and I exchanged business cards, she said she really liked mine. Veerle, one of the best and most talented designers/illustrators out there, liked my business card. They were two of the sweetest people I met during the week.
Andrea Arbogast was a real treat to talk to. Steve Ganz, captain of Team Microformats at the Avalonstar Bowling competition, was a lot of fun to hang with, very competitive and bringing out a competitive streak in me that doesn't surface very often. I wish I hadn't gotten injured in the first game (where I bowled well) so I could have contributed more to the second round (where I bowled poorly) and third round (where I didn't bowl at all) games. The other guys on the team were a lot of fun too; I particularly enjoyed informing Kevin Smith that I live in the town that most of his filmmaker doppelganger's movies take place in. :-) It was a joy to meet Tom Negrino; I spent a half hour talking to his wife Dori Smith last year when he couldn't make it because he was terribly sick, so it was particularly gratifying that he was there. I also got to talk to Dori a couple of other times, which was great. I had spoken to Derek Featherstone for about five minutes after his panel last year; this year, he greeted me like an old friend. I was curious if he knew of the gentleman who invented the screen reader; I worked for said gentleman back in 1993 when I discovered the web. I don't remember what I discussed with George Kelly, I just remember talking to him was fun. My friend Elaine, who couldn't make it to SXSW this year, had asked me to keep an eye out for her friend Dylan Wilbanks. I ran into Dylan a bunch of times, and had a very enjoyable lunch with him at the Iron Works BBQ. I know I'm missing a couple of dozen people here....
Some of the evening parties were too damned loud. I was reminded of the following verse from Geoff Berners' song "Light Enough to Travel", which I know from the cover by the Be Good Tanyas:
Promise me we won't go into the nightclub
I really think that it's obscene
What kind of people go to meet people
Someplace they can't be heard or seen
From that standpoint, far and away the best party I attended was the Great British Booze-Up. The music was just loud enough to serve as a pulse for the party, but it was possible to carry on a conversation without losing your voice. I had a really nice conversation with Eric Meyer about adopting children there. The frogdesign party was pretty loud on the ground floor, but once we worked our way up to the roof, it wasn't quite so bad. I met Lachlan Hardy from Melbourne there, the man with the coolest haircut this side of John Halcyon Styn.
But the most special times were those in small groups. Jenifer "Ms. Jen" Hanen's wine and cheese parties were a little oasis of sanity and quiet in the ocean of loud. I wish I had gotten to talk to Ms. Jen a little more; next year for sure. Leslie Jensen-Inman was another person there who I wish I had more time to talk to.
A conversation I had with Kimberly Blessing, Steph Troeth, and Glenda Sims during a pre-dinner lull in the second floor lounge of the Hampton Inn stands out to me as one of the most precious experiences of the whole week. I felt privileged to be there with three such strong, intelligent, accomplished women.
Dinner with Steph, PPK, and Kenneth Himschoot at Dan McKlusky's was special. Kenneth and I talked about possibly working on a goofy little project that I first started ten years ago and which may be resurrected.
I don't remember exactly how we got around to making a trip out to Toy Joy, but going there with Glenda, Steph, Jan and Alun Rowe was an absolute highlight of my time in Austin (we tried to interest others in joining us, but no luck; their loss, believe me). I bought a bunch of presents for Laura there, which she loved. Alun, who was one of the nicest people I met this week, took a picture of the help wanted sign there so I could send it to Laura, who has a thing for monkeys. Laura also loves Hello Kitty, so finding some items that combined the Hello Kitty universe and monkeys was particularly apt. Glenda picked up a couple of Smurf figures because it was Smurf by Smurfwest. One thing that kind of scared me about Toy Joy was that on their rack of wacky sunglasses, filled with outrageous interpretations of cat eye glasses and the like, was a pair of glasses that looked almost exactly like the glasses I wear every day.... After Toy Joy, we trekked out to a late night coffee shop on a lake, the name of which escapes me, and chilled out for a while, just five friends shooting the breeze. Absolutely wonderful.
I've seen it written that Twitter came of age at SXSWi. I know that before it, I was skeptical of it, thinking that it was kind of silly and frivolous. But after seeing Glenda use her phone to access it and use the information so gleaned, I got it. It was quite useful for hooking up with friends at parties and getting together for lunch and that sort of thing. I believe now.
There were people I knew from last year or even before who I bumped in to, but didn't get a chance to really catch up with, and I'm really sorry about that. Vanessa Tan and I had a really good conversation last year at Break Bread with Brad. We talked briefly after one of the power sessions, but with only ten minutes between sessions, our conversation was necessarily brief. :-( Last year I had an unforgettable conversation with Maggie Arganbright of the Philadelphia Eagles. I ran into her briefly in the hallway this year, long enough for her to tell me that a bunch of other NFL teams had come to SXSW this year as well, but then didn't see her again. :-( I've known Christina Wodtke for a bunch of years; I edited a guest issue of her Gleanings back when it was an e-mail newsletter back at the dawn of information architecture, met her in person at the IA Summit in Baltimore back in 2002, and even appeared in her book as the CEO of a web-based startup who has a dream about the company's site and comes in the next morning and insists that the site be immediately reengineered to conform to the dream. I ran in to Christina in the hallway and surprised her with my appearance; the last time she saw me, I was 50 pounds heavier and had a ponytail and full beard and mustache. I look a lot different now. She was in the middle of a conversation with someone else and we didn't have time to catch up. A couple of days later, I ran into her on 6th Street at 1 in the morning, but we were both awfully tired and she was headed back to her hotel, so we didn't have a chance to talk much more than the first time. :-(
Everybody needs a posse. My roommate Jan Brašna, ILG co-lead Steph Troeth, and our host Glenda Sims made up mine. Jan and I stayed at Glenda's house on the outskirts of Austin for the whole conference, and Steph joined us out there for the final evening. It was a great opportunity to get to know these wonderful people better. Jan is an amazing guy; he runs his own business in Prague with a number of employees. It kind of unnerves me that someone who is literally half my age can be so accomplished. :-) He's funny as hell, too.
Steph blew me away. Steel hand in a velvet glove. Technical chops like crazy, combined with an artistic sensibility. Somewhat reserved in public, but sweet and open in private. It's a real honor to work with her on the ILG, and more so to call her a friend.
And then there's Glenda. What can I say about Glenda? The woman is a force of nature. She knows freaking everybody. And those people she doesn't know, she just hasn't met yet. She's the kind of woman who can't spend 30 seconds waiting for the valet to bring the van around at 2 am without meeting someone and making another friend. It's kind of scary for a relative introvert like me. :-) When one of her favorite friends couldn't make it to SXSWi this year, she was crushed, but she did something to ensure that he knew how much he was missed. Say hello to FlatHicks, who was one of the highlights of SXSWi for a lot of people.
It was kind of scary how much we have in common, weird little coincidences like what we eat for breakfast. She's like the twin sister I never knew I had.
Glenda was so generous to me, putting me up in her house, introducing me to people. She was a key that opened doors. I can't really express in words how much what she did means to me; even interpretive dance is inadequate to the task. I owe her a debt of gratitude I'm not sure I can ever repay. I had kind of a rough time at SXSWi last year. I knew hardly anyone. I got to know just enough people to get involved with the WaSP International Liaison Group, and that's where I met Glenda, who I've worked with closely. When she offered to put me up for SXSWi I knew I had to jump at the offer. It paid off in spades; I had an absolutely incredible time, and a lot of that is thanks to Glenda. I think this is the beginning of a beautiful friendship. Glenda, you polka.
Has SXSWi changed my life? I don't know yet, but it's possible. I think the echoes from this past week are going to reverberate in my head and my life for months to come, if not years.
Tags: glenda sims bowling sxswi flathicks sxsw
Posted at 4:05 AM
Note: I'm tired of clearing the spam from my comments, so comments are no longer accepted.
This site is copyright © 2002-2021, Ralph Brandi.